Z-L-Gln-OH Amino Acid Manufacturers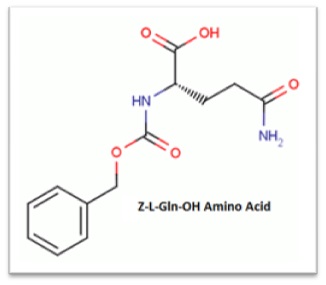 Corey Organics have been equipped with the best Z-L-Gln-OH Amino Acid Manufacturersteam which produces tons of quality Z-L-Gln-OH Amino Acid formulation. Basically, C13H16N2O5 is a formula which is used as an anti-ulcer agent. The composition also act as an inhibitor for AHAS (Acetohydroxy Acid Synthase) which is an important enzyme that affectsthe nature ofenvironmental herbicide. One can also use this formulation for synthesizing neomycin B, an important HIV antiviral agent. With the production of such a powerful medicinal intermediates and drugs, we could secure a really strong position in pharmaceutical industry.
The major support of our company is Reddy's highly furnished laboratory and of course the skilled experts who are fully into invention of such effective medicinal formula. Z-L-Gln-OH Amino Acid is made up of oxygen, hydrogen, and Nitrogen molecules combined together with appropriate ratio. Under the key guidance of Mr. Reddy, the co-founder of Corey Organics, we have been able to not only supply our products within India but also export them to various foreign territories such as Europe, China, Switzerland, Dubai, Japan, Germany, United States, Australia and United Kingdom.Visit us @ http://www.chavadipharma.com/.
Chemical Properties: Z-L-Gln-OH Amino Acid Manufacturers
| | |
| --- | --- |
| CAS No. | 2650-64-8 |
| Chemical Name: | N-Carbobenzyloxy-L-glutamine |
| Synonyms: | Z-GLN;N2-Be;Z-GLN-OH;CBZ-L-GLN;CBZ-GLN-OH;Z-L-GLN-OH;Z-GLUTAMINE;CBZ-L-GLN-OH;Z-Gln-OH 99%;Z-L-GLUTAMINE |
| CB Number: | CB4471956 |
| Molecular Formula: | C13H16N2O5 |
| Formula Weight: | 280.28 |
Area Covered By Corey Organics: Z-L-Gln-OH Amino Acid Manufacturers:United States, Europe, China, Japan, Germany, Switzerland, Dubai, Australia and UK.
Business Type of Corey Organics: Z-L-Gln-OH Amino Acid Manufacturers:Manufacturers, Suppliers & Exporters