Tbtu Coupling Reagent Manufacturer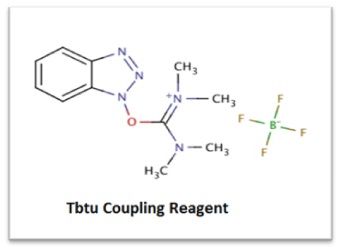 With the dedication and hard work of our Tbtu Coupling Reagent Manufacturerteam, we have successfully invented the Coupling Reagent of Tbtu in our company. As we said, TBTU is basically a coupling reagent used for synthesizing solid-phase peptide. The offered TBTU compound is usuallyopted for studying ten different phosphonium & uronium salt-based coupling reagents that are actually used to synthesize four different peptides. Therefore, TBTU ismade as the standard coupling reagent to synthesize tetrahydrocarbazole substituted dipeptide while performing the multi-gram solid-phase fusion. This reagent compound can also be incorporated with HOBt (hydroxybenzotriazole dihydrate) for activating carboxyl before coupling the C-terminal amino acid with 100% success rate.
As the demand of this reagent is high in the pharma-market, we supply tons of best quality Tbtu composition every year. Our major clients are from different corner of the world such as Japan, Germany, Switzerland,United States, Europe, Dubai, China, Australia and UK. Finally, we are CGMP, ISO 9001-2008 and ISO 14000-2004 certified enterprise.
Chemical Properties: Tbtu Coupling Reagent Manufacturer
| | |
| --- | --- |
| CAS Number: | 125700-67-6 |
| Product Name: | Tbtu Coupling Reagent |
| Synonym: | O-(Benzotriazol-1-yl)-N,N,N',N'-tetramethyluronium tetrafluoroborate |
| Molecular Weight: | 321.08 |
| Molecular Formula: | C11H16N5O•BF4 |
| Application: | A coupling reagent used for solid-phase peptide synthesis |
Area Covered By Corey Organics: Tbtu Coupling Reagent Manufacturer:United States, Europe, China, Japan, Germany, Switzerland, Dubai, Australia and UK.
Business Type of Corey Organics: Tbtu Coupling Reagent Manufacturer:Manufacturers, Suppliers & Exporters