Methyl-3,3-Methoxy Ethoxy Propanoate Manufacturers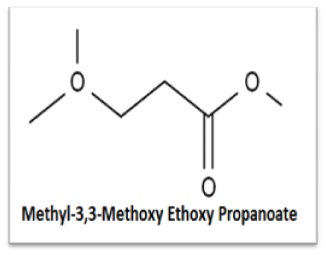 Corey Organics: We are known as the renowned Methyl-3,3-Methoxy Ethoxy Propanoate Manufacturersin India as well as in International market. It is a clean colorless chemical composition produced in a liquid form. Composed with appropriate chemical formula C5H10O3, our drug API is unique and highly efficient for synthesizing 3-indolyl α,β-unsaturated carbonyl compounds. The compound produced by our company is high in demand and hence we have devoted ourselves in production and supply of this medicinal formula and APIs.
We have been established in Telangana, Hyderabad since 1994 as a leading enterprise of pharmaceutical products and key chemical ingredients. We have legal certification of ISO 9001:2008, CGMP, and ISO 14000:2004 which proves that we are genuine pharmacy industry. Equipped with state of art Reddy's Laboratory and prominent personnel, we have always presented the client organizations with best quality and highly efficient drug samples and compositions. For best deal, hop on http://www.chavadipharma.com/.
Chemical Properties: Methyl-3,3-Methoxy Ethoxy Propanoate Manufacturers
| | |
| --- | --- |
| CAS No. | 3852-09-3 |
| Synonyms: | Methyl 3-methoxyprop;3-Methoxy propionate; Methylmethoxypropanoate;methyl3-methoxypropanoate;METHYL 3-METHOXYPROPIONATE;Methyl β-Methoxypropionate;methylbeta-methoxypropionate;Methyl 3-methoxypropionate,98%;METHYL 3-METHOXYPROPIONATE, 99+%;3-methoxy-propionicacimethylester |
| CB Number: | CB7372652 |
| Molecular Formula: | C5H10O3 |
| Formula Weight: | 118.13 |
Area Covered By Corey Organics: Methyl-3,3-Methoxy Ethoxy Propanoate Manufacturers:United States, Europe, China, Japan, Germany, Switzerland, Dubai, Australia and UK.
Business Type of Corey Organics: Methyl-3,3-Methoxy Ethoxy Propanoate Manufacturers:Manufacturers, Suppliers & Exporters