Hobt Coupling Reagent Manufacturer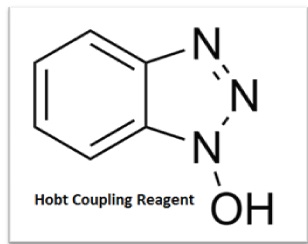 Believe us, we are the trusted Hobt Coupling Reagent Manufacturerin India recided in the city of Tilangana. We have the best laboratory and equipment which leads us to the great environment for production of HOBT Coupling Reagent. We are legally certified with ISO conformation which proves our loyalty and surety in terms of product manufacturing and supply. The HOBT Coupling Reagent invented by our manufacturers are highly secured with no side effects. Under the supreme guidance of Mr Reddy, the co-founder of Corey Organics, we could produce and supply the reagent to various foreign countries like United States, Europe, China, Japan, Germany, etc.
In scientific term, HOBT Coupling Reagent acts as an additive for coupling of oligonucleotide as well as racemization-free peptide. Record says that HOBt was initially proposed as an additive to DCC so as to reduce racemization. Hence, in today's date, the majority of peptide drugs or medicines up to 13 to 15 amino acids are being synthesized using HOBt method. Being Hobt Coupling Reagent Manufacturer, we provide the best products and delivery services across the world.
Chemical Properties: Hobt Coupling Reagent Manufacturer
| | |
| --- | --- |
| PubChem CID: | 75771 |
| Chemical Names: | 1-Hydroxybenzotriazole; 2592-95-2; N-Hydroxybenzotriazole; 1H-Benzo[d][1,2,3]triazol-1-ol; 1H-Benzotriazol-1-ol; HOBt |
| Molecular Formula: | C6H5N3O |
| Molecular Weight: | 135.1234 g/mol |
| InChI Key: | ASOKPJOREAFHNY-UHFFFAOYSA-N |
Area Covered By Corey Organics: Hobt Coupling Reagent Manufacturer:United States, Europe, China, Japan, Germany, Switzerland, Dubai, Australia and UK.
Business Type of Corey Organics: Hobt Coupling Reagent Manufacturer:Manufacturers, Suppliers & Exporters