BOC-3-Amino Pyridine Manufacturers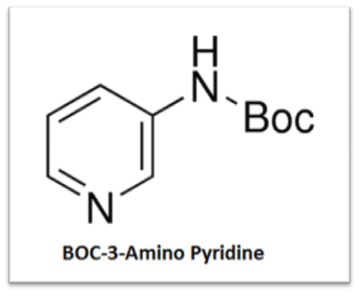 We are the Corey Organics BOC-3-Amino Pyridine Manufacturers centralized in Telangana, India. The Intermediate with C10H14N2O2 formula has various other synonyms such as BOC-3-Amino pyridine;3-(BOC-AMINO)PYRIDINE;3-(Boc-aMino)pyridine97%;TERT-BUTYLPYRIDIN-3-YLCARBAMATE; 3-TERT-BUTOXYCARBONYLAMINOPYRIDINE;tert-butyl N-(pyridin-3-yl)carbaMate;Carbamic acid, 3-pyridinyl-, 1,1-dimethylethyl ester (9CI). The manufactured API of BOC-3-Amino Pyridine in our company gets supplied in tons of number to various required organizations & agencies worldwide.
We have been facilitated with CGMP and certified with ISO 9001:2008 and ISO 14000:2004 which makes our clients trust us and our chemical composition. The BOC-3-Amino Pyridine Manufacturers do all the invention and testing of compounds with keen observation of Mr. Reddy, the co-founder of Corey Organics in the only Reddy's Lab. Complete documentation, validation and testingis done along with the production of Amino Pyridine samples. Visit us @ http://www.chavadipharma.com/ for more info.
Chemical Properties:BOC-3-Amino Pyridine Manufacturers
| | |
| --- | --- |
| CAS No. | 56700-70-0 |
| Chemical Name: | 3-(BOC-AMINO)PYRIDINE |
| Synonyms: | BOC-3-Amino pyridine;3-(BOC-AMINO)PYRIDINE;3-(Boc-aMino)pyridine 97%;TERT-BUTYL PYRIDIN-3-YLCARBAMATE;3-TERT-BUTOXYCARBONYLAMINOPYRIDINE;tert-butyl N-(pyridin-3-yl)carbaMate;Carbamic acid, 3-pyridinyl-, 1,1-dimethylethyl ester (9CI) |
| CBNumber: | CB4151418 |
| Molecular Formula: | C10H14N2O2 |
Area Covered By Corey Organics: BOC-3-Amino Pyridine Manufacturers: United States, Europe, China, Japan, Germany, Switzerland, Dubai, Australia and UK.
Business Type of Corey Organics: BOC-3-Amino Pyridine Manufacturers: Manufacturers, Suppliers & Exporters